ReceiptPal makes it easy to keep track of paper receipt submission deadlines by including on the Point Card in the app the receipt purchase dates currently being accepted.

However, we encourage our members to submit receipts the day they make the purchase.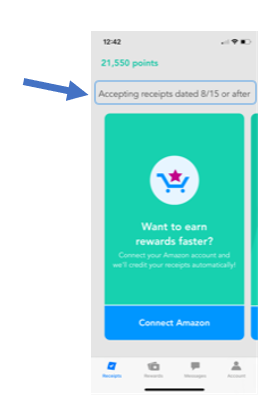 Our receipt submission deadline is as follows: Any receipts for purchases made between Sunday and Saturday of any week must be submitted by the Tuesday of the following week. See below for an example.

Whether a receipt is considered expired or not is determined by the date you submit the receipt, not the date that your receipts are reviewed/validated by ReceiptPal.
Remember, we allow you to submit as many receipts as you like each week. If you run out of Point Cards for the week, please submit your receipts to the Sweepstakes Card – you'll earn two sweeps entries for every receipt (but no additional points)!