Please note you can only access your ReceiptPal account on one supported device at a time.
BEFORE YOU START:
If you are not sure about which is your primary email address for your ReceiptPal account, see: How can I find out what is the primary email address associated with my ReceiptPal account?
1. Download the ReceiptPal app on the new phone or recently restored phone. Depending upon your device, go to either the Apple App Store or Google Play Store to download the latest version.
2. Open up the ReceiptPal app.
3. At the end of the tutorial, tap on "Register". If you are using an Android device, you will be presented with a Personal Data Policy. In order to continue, you must tap "Accept."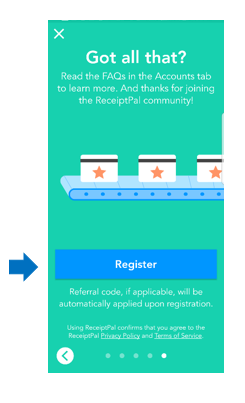 Note, if you close out of the tutorial before tapping on "Register", you can also register by going to the Account tab and tapping on "Register Now".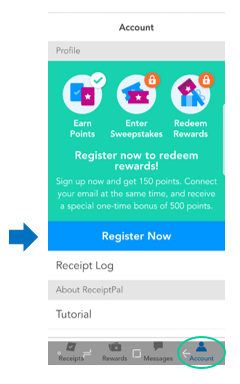 4. You will be presented with a screen asking you for your email address. Enter the email address you originally registered with ReceiptPal as your primary email address (see above for a link to a helpful article on how to identify your primary email address).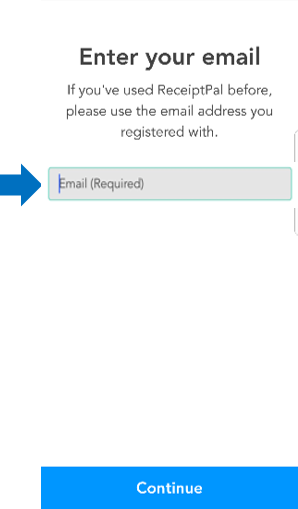 5. Go to the inbox for the email address you entered. Locate an email from ReceiptPal Team (noreply@receiptpalapp.com). Tap on "clicking here" in the email.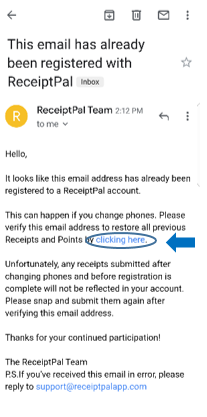 6. You should then see this message: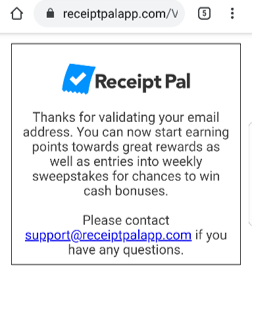 7. Re-open the ReceiptPal app on the new/restored phone. Your points and receipt log should be re-associated to your new/restored phone.