To dispute any receipts you feel were erroneously marked as invalid . . .
If the receipt was marked invalid due to missing merchant name, missing purchase date or missing purchase price, please go to the Invalid Receipts Folder in the Receipt Log via the Account tab in the app to see if the receipt is eligible for resubmission.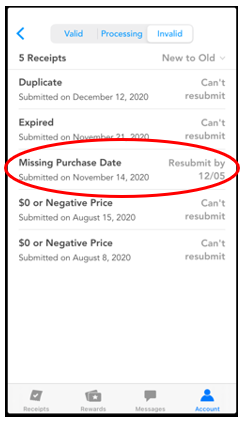 Note, make sure the missing information is clearly visible in the receipt photo you resubmit.
If the receipt is marked invalid for any other reason, please contact ReceiptPal Support via the Help Center or by email (support@receiptpalapp.com) as soon as you are notified.
All receipt disputes must be reported within 21 days of original receipt submission.
Please retain a copy of your receipt in the event that we ask you to resubmit it to ReceiptPal.