Follow these steps to create a ReceiptPal account. Then start using the app to earn rewards just for submitting receipts of your purchases!
Note:
At this time, the following email providers are eligible for connection to ReceiptPal: AOL, Gmail, Hotmail, Outlook.com and Yahoo!.
Yahoo! and AOL email users should read step 7 before starting to create a ReceiptPal account.
To create your ReceiptPal account:
1. Depending upon your device, go to either the Apple App Store or Google Play Store to download the latest version of the ReceiptPal app.
2. Once downloaded, open the app.
3. To view the tutorial, swipe left. At the end, tap on "Register".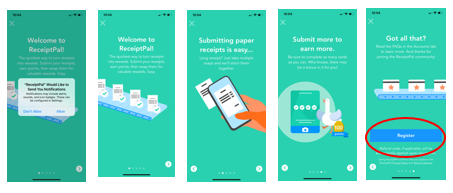 If you accidentally close out of the tutorial before reaching the Register page, tap on the Account tab in the bottom right corner of the screen. Then on the next screen, tap on "Register Now".
Note: If you are using an Android device, you will be presented with a Personal Data Policy. In order to continue, you must tap "Accept."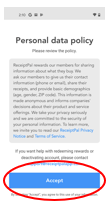 4. Fill out the email address and profile information.
5. Keep the toggle on (slide to the right) next to "Connect your email and earn rewards for e-receipts" to get automatic credit for valid e-receipts, if your email address is one of the eligible providers.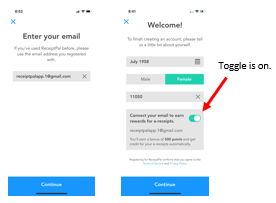 6. Tap on "Continue".
7. Enter the password associated with the email account that you want to connect to ReceiptPal.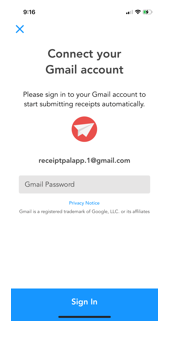 Note: If you are connecting a Yahoo! or AOL email address, Yahoo! and AOL require that you generate an app password before you connect your email account to ReceiptPal. Read "What do I need to know before I connect a Yahoo! email address?" or "What do I need to know before I connect an AOL email address?" for instructions.
8. Wait until you see a screen stating "You're All Set!" or "Success". Tap "Okay" or "Done".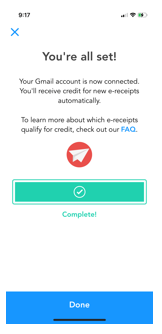 9. This means your email account is connected to your ReceiptPal account and valid e-receipts will be automatically credited to your ReceiptPal account.