To connect your Amazon account:
1. Tap on the Account tab in the bottom right corner of the screen.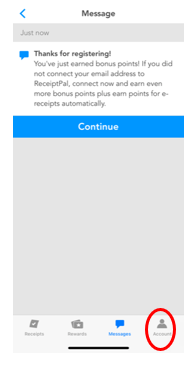 2. Tap on Manage Accounts or Connect Amazon.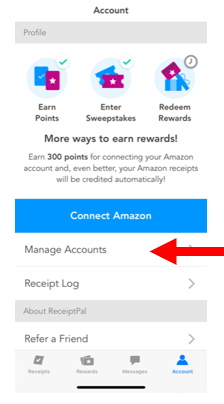 3. Tap on "Connect Your Amazon Account".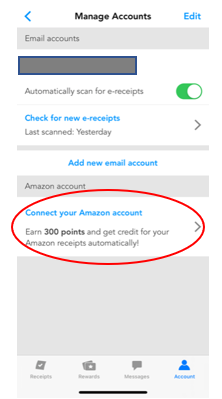 4. Enter the login information for your Amazon account. In you experience an issue connecting, please see How can I resolve a problem with connecting a Gmail or Amazon account to ReceiptPal?
5. Tap "Sign In".
6. A screen will appear that reads "Checking for new e-receipts".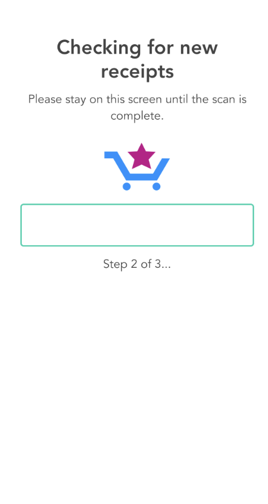 7. Once you see the "You're all set!" screen, your Amazon account is connected to your ReceiptPal account and valid Amazon e-receipts will be automatically credited to your ReceiptPal account.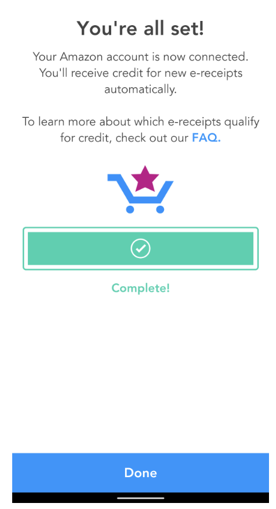 ReceiptPal will identify e-receipts which may qualify for points starting with those e-receipts with a purchase date that is the same date as the day you connect your Amazon account for auto collection to ReceiptPal.
Please Note: It may take several days for ReceiptPal to extract qualified e-receipts from your Amazon account and credit them to your ReceiptPal account.

Remember, you can check your receipt log in the app to make sure your e-receipts are being credited to your account.